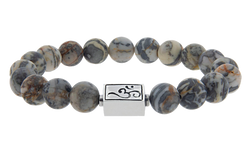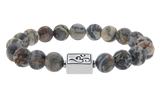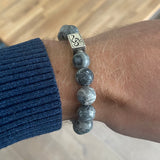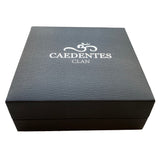 Caedentes Clan
Classic grey Jasper (10mm) silver
Grey Jasper beads bracelet. the size of the beads are 10mm, Together with the 925 sterling silver logo bead. Every bracelet comes with a luxurious storage box.
(because of the use of natural stones, the color and size of the beads can slightly vary)
Determining your wrist size is easy with a measuring tape or a piece of string. Wrap a measuring tape around your wrist just behind your wrist bone, not too tight but close all around. Then read the size from the measuring tape. If you don't have a tape measure, wrap a string around your wrist in the same way. Draw a line on the string where the string has completely wrapped your wrist. Then lay the string along a ruler and read the size.

The bracelet will be approximately 2 centimeters larger than your exact wrist size, so it is important that you measure your wrist properly and order the correct size in the webshop.

If you have a wrist size of 17.5 centimeters, order the 18CM online.

For example, if you have a wrist size of 19.2, order the 19CM bracelet online.

When ordering you can add a note where you can report your exact wrist size and stone preferences.
 Welcome to the Caedentes Clan information page!

On this page we provide information about all natural stones that we use for our bracelets. We currently use the following natural stones: Lapis Lazuli, Tiger Eye, Sodalite, Green Jasper, Gray Jasper, Blue Jasper, Lava Rock, Bloodstone, Howlite, Onyx, Matte Onyx, Eye Agate, Eagle Eye, Hematite and Labradorite.
Lapis Lazuli is one of the most sought after stones since the age of man. The natural stone is azure blue in color with visible gold-colored points. Lapis Lazuli has been associated with wisdom, deepening and is also known as a friendship stone for centuries. We supply this beautiful bracelet with beads10 and 12mm. In addition, our bracelet also comes with our 92.5 sterling silver logo.
Tiger Eye is a yellow to reddish brown stone with a shine. Tiger's eye protects against negative external influences and gives us courage. This stone is part of the Quartz group and is often given as gifts. You once paid a fortune for a Tiger Eye bracelet, but since large quantities have been found, the price has dropped significantly. We at Caedentes Clan offer Tiger Eye bracelets with our own silver logo and 10 or 12mm Tiger Eye stones.
Sodalite is a beautiful dark blue stone known as the catalyst that reconnects you with your sixth sense, an essential part of our survival as a species. Sodalite is also associated with the color of the sky.
Jasper  is an aggregate of microgranual quartz, this ancient stone is available in blue, gray and a green variant with red spots, this variant is also called heliotrope. The stone is believed to give your body and mind the energy it needs to revitalize a creative project or purposefulness. The Jaspers are beautiful stones that strengthen the mind and prepare you for your moment in the spotlight.
Eye Agate is named after the Sicilian river, the stone was created from the crystallization of volcanic rocks. The stone consists of a color combination of light brown, dark brown and white. Eye agate is offered to us in 10 and 12mm bracelets, along with our 92.5 silver logo
Onyx is a glossy black powerful warrior stone found in parts of Africa, Mexico and Argentina. The stone symbolizes initiation and change in Peruvian and Native American traditions. Onyx is also seen as a protective stone. Caedentes Clan offers Onyx bracelets in stone sizes of 10 and 12mm also offer this onyx bracelet with 3 silver beads and our silver caedentes Clan logo.
Eagle eye, is a shiny gray natural stone that radiates authority, leadership, control and success. In addition, Eagle Eye helps to overcome fear of failure.
Hematite is a very common iron oxide and is distributed in rocks and soils. People believe that when hematite hits the skin, you feel more centered and calm. Hematite also stands for strength and must, and hematite is said to increase the stimulation of red blood cell formation. vergroot.
 Lavastone  is black in color and has a robust structure. This lava stone bracelet differs from other natural stone bracelets because most bracelets have a smooth structure. What makes this bracelet even more unique is our silver Caedentes Clan logo bead.
Howlite is a mostly white and gray gemstone, This natural stone is often used to control anger and anger and according to sources will have a positive effect on sleeping problems. We offer this natural stone bracelet with stones of 10mm and our silver logo
Labradorite was first discovered in North America, it changes color depending on the angle of the refraction. It is believed that Labradorite also has healing properties and encourages us to keep dreaming. Labradorite stimulates imagination and creativity, reduces anxiety and gives strength!